#{title}#{text}
#{title}#{text}
#{title}#{text}
#{title}#{text}
#{title}#{text}
0
added to delivery
Out of stock
Beef Prime Rib Roast
Out of stock
| | |
| --- | --- |
| | Born and Raised In Fowler, Colorado- The biodiversity of grasses in southern Colorado means more flavor. |
| | Dry Aged 21+ days - The longer it ages, the more tender it is. Most beef is only aged for a week, ours hangs for 3 weeks. |
| | Wagyu Cross Cattle- A wagyu bull brings really distinct marbling to the table for incredible tenderness and flavor. |
| | No Bullshit - No drugs, no cages, no feedlots, no hormones, ever. |
The Wagyu-Angus cattle raised on Rancho Largo offer a lot more to eaters than just fantastic tasting beef. Here, owner Grady Grissom supports sustainable ranching practices and rotational grazing. Plus, he has a hand in the economic and ecological health of the whole area.
"The goal of our ranch is in the grazing, which includes plant, soil and eco-diversity," says Grady. In fact, Rancho Largo's operation in Fowler, Colorado is part of the largest working landscape in the entire Central Shortgrass Prairie eco-region. Plus, the pasture-raised beef is free of hormones, steroids, antibiotics and GMOs, and tastes as good as it sounds.
"When you have a diverse array of plants, you have more flavor," he adds, comparing the relationship of his land and beef to the way terroir affects wine. "The plants the cattle are eating not only drive in the flavor, but add micronutrients, Omega-3s and Omega-6s, and all the chemicals that are antioxidants and have health benefits."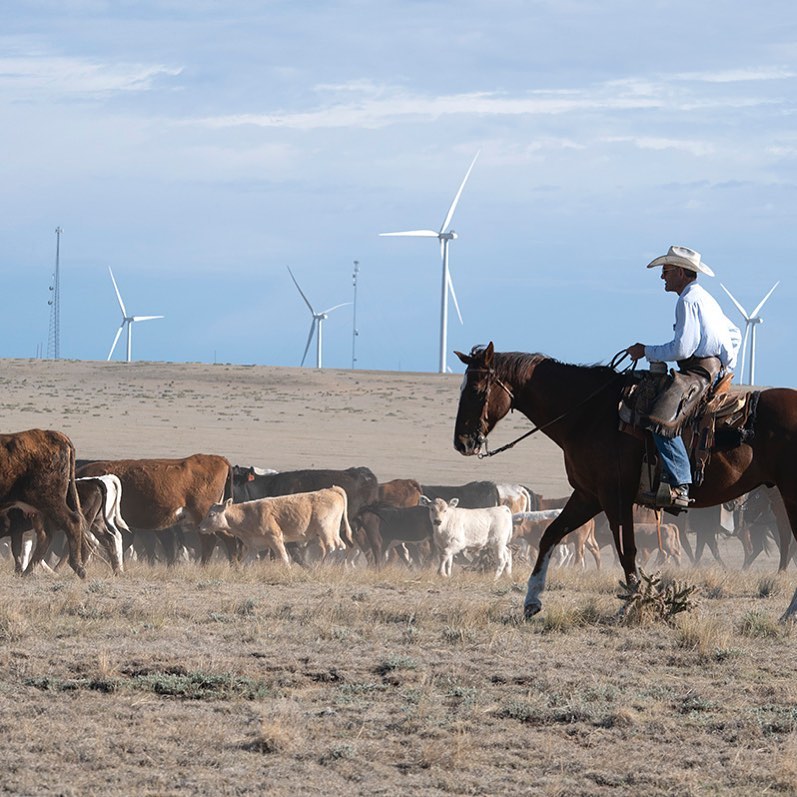 The Beginning
While Grady wasn't raised on a farm, he has loved the idea of ranching since he was a kid spending summers on the family ranch in Wray. He knew then it was the lifestyle he wanted. But it took some time to get there.
Grady was raised in Wheat Ridge and his father was an attorney in Denver. He spent years wrestling in high school before heading to Princeton University in New Jersey to study geology. After that, he came back to Eastern Colorado and worked on a ranch, solidifying his love of the lifestyle. Yet, he still wasn't sure how to do it on his own.
So, Grady went back to school, this time on the West Coast to Stanford to get a PHD in geology. It was there Grady met his future ranching partner who financed the project that led to Grady and his wife Lynda starting Rancho Largo in 1996. From the get go Grady wanted have biodiverse ranching practices and support the arid grasslands and canyons throughout the property, as well as the Wagyu and Angus cross cattle that graze on it.
Rotational Grazing
"For someone who wasn't raised on a ranch, I had decent knowledge of the day-to-day and what it took to raise cattle, but I didn't have a clue about the bigger scale operation and strategic decisions like what kind of cattle to raise and what kind of business model to follow," says Grady. "Those first five years were a struggle."
It takes about 70 acres of land to support one mother cow each year, and at 14,000 acres that meant Rancho Largo could only host 200 heads of cattle. That's why Grady took a different approach and started to plan out how the cows grazed, creating smaller pastures and monitoring the land and adjusting accordingly. This practice is widely known as rotational grazing, and once he started, Grady knew it was the way to go.
"One of the critical things I learned was that I couldn't force land or cattle to do anything," says Grady.
"There was an element of hubris there of, 'I can make this work,' but you have to work with land and animals, and that was the first step in realizing the ecological health of the land is the key and it's what drives your bottom line."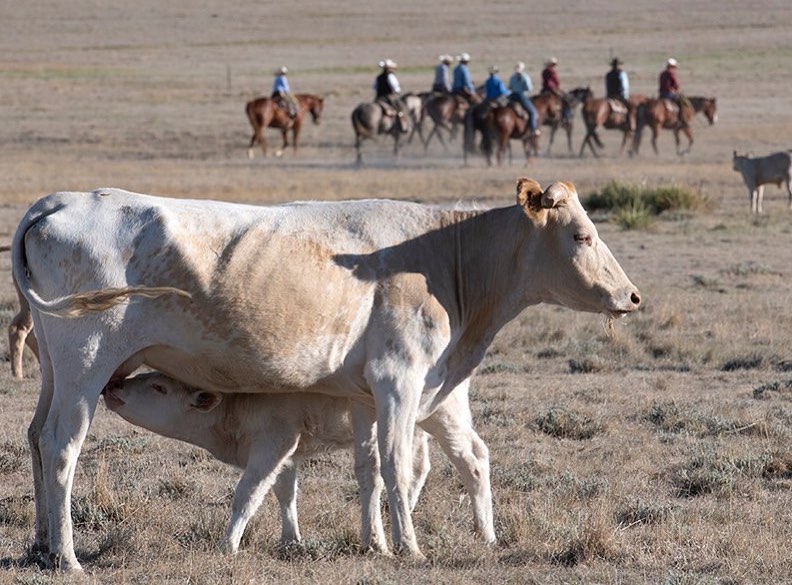 The Cattle at Rancho Largo
The Wagyu and Angus cross cattle residing on Rancho Largo live as naturally as possible. They calve in the spring when the native plants are at the peak protein production. These types of cows don't need birthing assistance, and calve naturally in a secluded spot on pasture. Within a few minutes of birth, the baby is up and sucking milk, ready to follow its mama around as she grazes. In the summer these mama cows teach the young about predators and how to balance their diet while avoiding toxicity from the rich array of plants.
By fall the calves weigh in at 400 to 500 pounds and are ready to be weaned. At Rancho Largo the weaning is done across a fence to help limit stress to both mom and offspring. This practice is important so the mother cow can gain enough body fat to help her survive the winter. By the end of fall the heifers go back to the herd to learn how to handle the winter. This is also the time Grady makes choices on which animals to breed with the Wagyu bulls. By 2-years-old most of the heifers will calve for the first time.
Before any animal is processed, it spends at least two years getting fat on the natural foliage on pasture, and then gets finished on grass at the end. "It's an important part, it costs us money, but it's worth it," says Grady.
That's quality control you won't find with many ranchers. Try the magic coming out of Rancho Largo for yourself, be that in the form of grass-fed flank steak, chuck roast, sirloin flap or ground beef.
Customers also added these items